Victoria Group presents the experiences of their factories in the use of biomass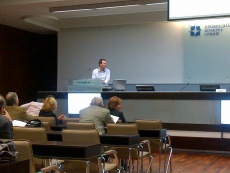 The Serbian Chamber of Commerce (PKS) and the Society of Thermal Engineers of Serbia (DTI), on December 3rd, organised a conference on the use of biomass for energy purposes in Serbia. Dragan Urosevic, energy manager of Victoria Logistic, member of Victoria Group, participated in the session on the potential uses of biomass, and in his presentation showed the experiences of the company which has, since 2006, used biomass as a renewable energy source.
Victoria Logistic, in November of this year, began mass production of pellets from biomass in a plant in Zrenjanin, which until recently was used mainly for the internal uses of Sojaprotein and Victoriaoil factories. In the next period, the plan is to expand existing capacity in order for the pellet plant to be able to meet the growing needs of external customers.