Šmekerica Contest in Niš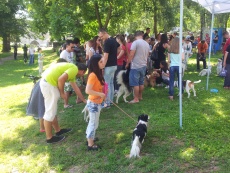 Šmekerica, a contest for pedigree and non-pedigree dogs of all breeds, sizes and colours, the selected winner of which will be the face of the Dog&Style dog food line, has visited four cities in Serbia to date. After Kragujevac, Novi Sad and Belgrade, the contest arrived in Niš where the pet competition for South Serbia was held at Niš Fortress, on the plateau behind the Mountaineer Home on 7 June.
The four-legged applicants demonstrated their strength in front of a jury that awarded 15 prizes in fun categories. For the main title of Šmeker/Šmekeruša 2014 (2014 Swag Boy and Swagette), the pets were photographed in a specially designed Swag boy/Swagette convertible. All photos will be posted on the Dog&Style Facebook page (www.facebook.com/dogandstyle), and voting will last one month. As previously, three dogs were also selected in this town for the final contest, where at the end of the year the finalists will compete to be the dogs on the packaging of the dog food produced by the Veterinary Institute Subotica, as well as for a series of prizes and gifts.
Visitors to the event were also able to enjoy a competition involving the popular Serbian Android game – Lajavko (Barky). The mascot of the Dog&Style food, Swag Boy, appears in the game with a humanitarian character, as users, each time they download this free application participate in the donation of food for dogs in dog shelters in the Republic of Serbia.
At the Šmekerica Contest in Niš, Veterinary Institute Subotica organised a collection of food and accessories for pets from the areas hit by the floods that affected Serbia last month, in cooperation with animal protection associations in Niš. The whole Šmekerica Contest promotes responsible ownership and animal care.