International Year of Soils marked at the "Sustainable Soil Use" event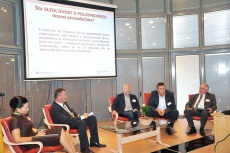 Last week, on the occasion of marking the International Year of Soils, the "Sustainable Soil Use" scientific and professional event was held by the Institute of Field and Vegetable Crops and the Soil Science Society of Serbia. The event gathered a large number of representatives from relevant institutions and the academic and business community, with the goal of promoting the importance of soil and its sustainable use. The experts who deal with the management of soil resources in the Republic of Serbia, as well as the experts of several international organizations, gave their contribution to the event.
In the panel discussion on the theme of "Responsible management of soil using modern technology", Victoria Group was represented by Nikola Vujačić, Chief Operations Officer. He pointed out the importance of the agro-industry's cooperation with agricultural producers, the importance of carrying out soil analyses for responsible agricultural practice, and presented the company's efforts to continuously educate producers on the principles of traceability and "precise" agriculture based on the application of modern knowledge and technology.
The Declaration on soil was adopted at the event as a contribution of the Republic of Serbia to the international initiative of the UN, thereby sending a message that in Serbia the participants who study, manage or use the soil also work and cooperate to preserve it. The United Nations declared 2015 the International Year of Soils to globally raise awareness of soil as a non-renewable natural resource with multiple roles of key importance for life on the planet.