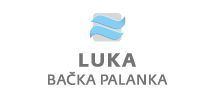 The Port of Bačka Palanka is located on the left bank of the river Danube, on the 1295th km of its course, in the agricultural area of South Bačka. It is characterized by an excellent strategic position thanks to the connection with Pan-European Corridor 7 (a river and canal system of the Rhine-Main-Danube Canal), which connects it with the countries from the North Sea to the Black Sea. The strategic position is contributed to by the immediate vicinity of the Novi Sad-Osijek-Sombor main road, closeness of the Belgrade-Subotica highway at a distance of 45km and the Belgrade-Zagreb highway, which is 30km away, as well as the railroad track which is just 5km from the port.
The Port of Bačka Palanka provides port services, such as (un)loading, storage and transportation. It is part of AgroPort logistics centre operated by Victoria Logistic, another member company of Victoria Group. More information about services and capacities of AgroPort centre is available here.
Thanks to its capacities, 500,000 tons of cargo of various types can be loaded annually at the Port of Bačka Palanka. The Port also provides the usage of its infrastructural facilities – operational quay, anchoring, winter storage and warehouse facilities, and also offers transportation services, including loaders and forklifts.
The Port of Bačka Palanka has developed an additional activity – the production and sale of construction material: natural gravel, separated gravel, sand, as well as concrete customised to buyers' needs.