Victoriaoil supports the "Warm dinar" charity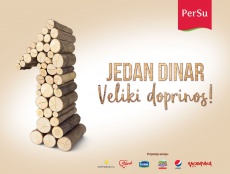 A huge charity event called "Topli dinar" ("Warm Dinar") organized by the supermarket chain PerSu, and supported by Victoriaoil, a Victoria Group member company, has been completed.
During the month of October, this supermarket chain donated 1 dinar from each purchase, amounting to over 1.5 million dinars for firewood for 100 of the most disadvantaged families in Vojvodina. The firewood was distributed during the first half of November.