Victoria Logistic ready to purchase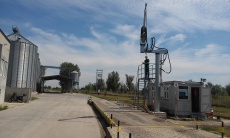 Victoria Logistic is ready to purchase soybeans and sunflower this year too. In addition to the funds secured for the purchase of seeds, funds for the supporting operations and expenses following the purchase are also available: quality control, storage facilities, and goods transport. The purchase is organized at more than 40 purchase and flow locations/warehouses throughout the country. The quality control is performed in cooperation with the inspection companies SGS and Jugoinspekt.
With the goal of faster receipt of goods and obtaining higher quality goods samples, automatic probes were installed this year in our silos in Bačka Palanka and Crepaja, the Victoriaoil factory, and some external storage facilities with a large flow. With this equipment, the purchase of oilseeds will significantly speed up at such purchase locations during peak of season.
The storage facilities of 550,000 tons for soybeans and sunflower have passed all the preparatory work, including disinfection, disinsection, and pest and rodent control, and are therefore ready for purchase. The speed of goods delivery is guaranteed by a network of over 350 trucks that are available through the partnership with about 20 trucking companies. Victoria Logistic has carried out all of the preparations so that soybeans and sunflower are transported as easily and as quickly as possible from the field to the Sojaprotein and Victoriaoil factories, in a cost-effective way.