Victoria Logistic at the conferences on Plant Protection and Processing in Agriculture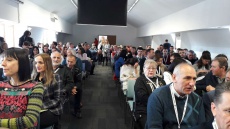 The XIV Plant Protection Counseling Session organized by the Plant Protection Society of Serbia was held from November 27 to December 1, as the largest vocational gathering where, each year, the latest information in the field of plant protection is exchanged and the current problems and subjects that defined the previous period are discussed.
Victoria Logistic, a Victoria Group member company, traditionally takes part in this Counseling Session, which is also an opportunity to discuss collaboration in the new production cycle with business partners.
In December, Victoria Logistic took part in the 30th  Themed Counseling Session of Experts in the Field of Processing and Energy in Agriculture (TOSS) titled: "Innovation and Creativity in Drying, Storage, Reworking and Processing of Agricultural Products with Examples from Practice and Theory". The company was represented by Branko Vuksan, who, on behalf of a group of authors, presented a paper entitled: "Mechanized Shipment of Mercantile Seed in a Floor Storage Warehouse of the Agroport Center in Bačka Palanka".
The gathering held on December 14 was organized by the Maize Research Institute "Zemun Polje" and the Faculty of Agriculture of Novi Sad, with the aim of making use of those innovations that have been applied in practice and scientifically proven to improve the drying, storage and reworking of agricultural goods.