Victoria Group at the Human Resources Management Congress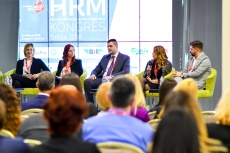 The Management Center Belgrade (MCB) organized the HRM Congress on human resources management on February 23 in Belgrade.
Victoria Group was represented by the Director of Human Resources, Marija Tatarević, who participated in the panel "Employer Branding" about the creation of a good employer brand and its significance for the recruitment and employment of new personnel. She talked about the tools, possibilities and challenges that companies face when creating a desirable employer brand on the market, with the goal of attracting the best candidates.
The Congress gathered more than 250 leading HR experts from Serbia, and this panel also featured the HR sector representatives from the following companies: VIP Mobile, Tarkett, Tehnomanija and Carlsberg.