Victoria Group on Global Forum on Food and Agriculture in Berlin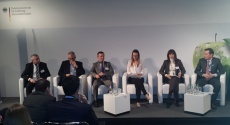 As a part of International Green Week, Global Forum on Food and Agriculture was held last week in Berlin, in organization of the Federal Ministry of Food and Agriculture of the Republic of Germany.
The main topic of the conference was agricultural development and food provision - participants discussed how agriculture and rural areas can deal with economic, ecological and social challenges more efficiently.
Victoria Group's representative was Natalija Kurjak, Marketing Manager for Partner Relationships. She participated in the panel "Agriculture as a key driver for social and economic growth in Southeast Europe" together with the state secretary in the Ministry of Agriculture, Forestry and Water Management of the Republic of Serbia, Danilo Golubović.
Mrs. Kurjak also participated in the workshop on agriculture and agroindustry organized for agribusiness representatives from Germany and Serbia.