Victoria Group at the Forum for Sustainable Communities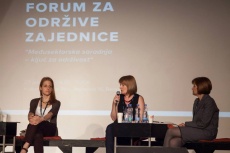 The Forum for Sustainable Communities, organised by the Business Leaders Forum and the Smart Kolektiv, with the support of USAID and ISC, was held in Belgrade on 27 June. The conference brought together representatives of the civil, public and private sectors who discussed existing intersectoral cooperation and possibilities for its improvement.
Victoria Group was represented by Tamara Vlastelica Bakić, Advisor to the CEO for Corporate Communications, who took part in the panel discussion, "Innovative Philanthropy - How Can Business Help the Local Community?" She presented the Victoria Group corporate social responsibility policy and the specific efforts the company makes to invest and actively contribute to the development of the local communities in which it operates. She also presented the experience of the company in social responsibility projects focusing on systemic and sustainable support in the resolution of social problems. Besides Victoria Group, representatives of Vip Mobile, Holcim and Philip Morris participated in this part of the conference.
The conference paid special attention to the involvement of companies in repairing the damage caused by the disastrous floods that hit the region and the transparent spending of raised funds. Marko Blagojević, Director of the Office for Recovery and Aid for Flooded Areas of the Government of the Republic of Serbia, and Veran Matić, Director of the B92 Fund, also took part in the discussion.