Victoria Group at the Danube Soya Congress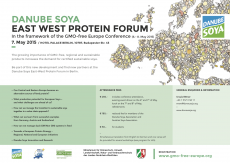 The Third Danube Soya congress, which was held in Berlin from May 6 to 8, saw more than 400 participants from Europe, America, and Australia. Victoria Group's representatives at the congress were: Marta Kinka, Sales Manager at Sojaprotein; Aleksandra Bauer, General Manager at SP Laboratory; and Natalija Kurjak, Marketing Manager at Victoria Logistic. Those visiting the company's exhibit stand had the opportunity to get detailed information about the production portfolio of Sojaprotein, and the possibilities of cooperation.
The third day of the congress was reserved for a panel discussion about EU regulations concerning the GMO labeling of food for end consumers. The participants in the Panel included representatives of the Danube Soya Association, the US Consumer Organization, members of the European Commission for the labeling of food, and representatives of farmers, the meat industry, and large retail chains, as well as Natalija Kurjak, Marketing Manager at Victoria Logistic, who gave a presentation about cooperation between the company and the agriculture sector, the legal frameworks in Serbia, and the potential of Serbian agricultural products in the EU market.