Victoria Group among the top ten exporters in Serbia in the previous year!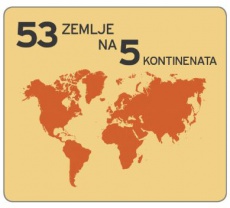 The sales results achieved last year confirmed Victoria Group's place among the leading exporters in Serbia. According to the reports of the Ministry of Finance of the Republic of Serbia and the information collected by the Customs Administration in 2016, this company took the tenth place on the list of leading exporters, with the export value of EUR 172.6 million.
Last year, Victoria Group distributed its products on as much as 53 markets worldwide, and the greatest export within the group was realized by the companies Sojaprotein and Victoriaoil. When it comes to export value for Sojaprotein products, the most important foreign markets were the Netherlands, Italy, Germany, Switzerland and France; Victoriaoil exported most of its products to Italy, Switzerland, Austria, and the countries in the region.