Victoria Group at the Agricultural Forum "Food for Europe"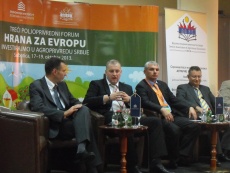 The Third Agricultural Forum "Food for Europe" took place in Subotica from 17 to 19 October 2013. Discussion on investments in Serbia's agribusiness, which was the central topic of the Forum, brought together around 150 participants including representatives from the Ministry of Agriculture, Forestry and Water Management, numerous companies and professional associations and institutions.
Victoria Group was the sponsor and a participant in the "Experience in Agribusiness" discussion panel where Goran Borčak, Director of the Agroteam of Victoria Group, presented the experience and the position of the company in the domestic and the foreign markets, and also touched on the topic of traceability in agriculture.