Veterinary Institute Subotica at the Serbian National Exhibit Stand in Mostar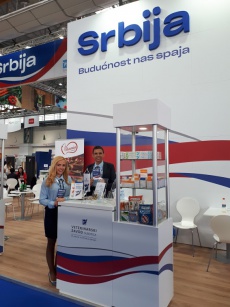 The 22nd International Fair in Mostar was held between April 10 and 14, with Veterinary Institute Subotica, a Victoria Group member company, as one of the exhibitors.
Its exhibit stand was a part of the Serbian national exhibit stand, with an exhibition space of over 800m2 and more than 50 Serbian companies from different sectors such as agriculture and the food industry, tourism, construction, furniture, textile, metal and electric power industries presenting their offers.
During the Fair, Veterinary Institute Subotica organized meetings with potential business partners, mainly focusing on the promotion of pharmaceutical and dermo-cosmetic products.