Veterinary Institute Subotica active at the Veterinary Conferences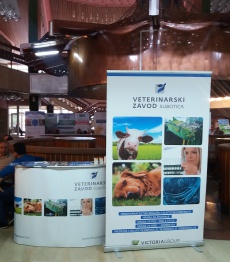 The month of September was marked by several events of significance for domestic veterinary experts. The Veterinary Institute Subotica, which operates within Victoria Group, participated in these events, presenting its wide range of feed products and pharmaceuticals for animals.
The company's expert team had the opportunity to present its products at the 28th Veterinary Experts Conference, which was organized by the Serbian Veterinary Association and took place on Zlatibor Mountain from September 7 to September 10. In addition, the company's representatives participated in several panels and lectures on current issues within the professional field.
On September 23, the Veterinary Institute Subotica, as a supporter of the "Serbian Association of Large Animal Practitioners", took part in the organization of a one-day seminar at Palić, which was attended by over 120 veterinary experts.
Within the same period, from September 21 to September 24, the company's sales team presented its product range together with its distributor "Bečejka" in Aleksandrovac at the 54th  Župa grape harvest (Župska berba).
The traditional gathering of poulterers at their 26th Conference was held from September 26 to September 30 on Tara Mountain. The Veterinary Institute Subotica has been participating for years in this event, bringing together the greatest experts in the field of poultry breeding – in the areas of nutrition, prevention and treatment of poultry.