Sustainable Animal Production discussed with farmers from the Zlatibor District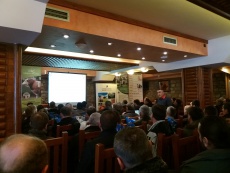 On January 24, the Veterinary Institute Subotica, a Victoria Group member company, organized an expert lecture for dairy farmers on Zlatibor Mountain. The subject – "Sustainable Animal Production Today" – attracted more than 80 farmers from the Zlatibor District.
In addition to educational content and information regarding current trends in farming practices, the company representatives also presented to the farmers a line of products for the nutrition of ruminants called Benefit. What differentiates the BENEFIT product line from other, similar products on the market is the integration of soy molasses in the formula. Molasses are an optimal and easily digestible carbohydrate feed, which, besides a high level of energy, also add sweetness and fragrance to mixtures, thus improving the animals' feed consumption.