SP Laboratorija at the Innovations in the fruit and vegetable processing seminar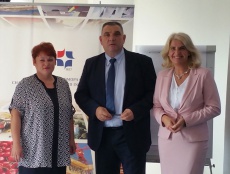 At the initiative of the Serbian Fruit Juice Producers Association (UPVSS), of which SP Laboratorija is also a member, and with the organizational support of the Chamber of Commerce and Industry of Serbia, the seminar "Innovations in the fruit and vegetable processing sector – legal framework" was held at the end of September. The seminar was attended by around 50 people, the representatives of the companies that produce and sell fruit juice, nectar, jam, marmalade, and similar goods, as well as laboratories that test the quality and safety of products in this category.
The legal framework was presented by Branislav Raketić, Head of Group for Food Quality and Labelling at the Ministry of Agriculture and Environmental Protection, while the new "Rulebook on the quality of fruit jams, jellies, marmalades, preserves, sweetened chestnut puree and similar goods" which applies from September of this year was presented by Prof. PhD Predrag Vukosavljević from the Faculty of Agriculture in Zemun.
SP Laboratorija had three representatives at this seminar. In her presentation, Marija Vujić-Stefanović, Deputy Executive Director of the Genetic and Physiochemical Analysis Department, described in detail several specific features of product quality and labelling (determining and displaying the sugar, vitamin and mineral content). Biljana Marošanović, Executive Director of the Instrumental Analysis Department, gave an overview of domestic and foreign regulations on the subject of "Contaminants and pesticide residues in fruit and vegetable products". Radovan Čobanović, Deputy Executive Director of the Microbiological Department, discussed the microbiological risks in the process of fruit and vegetable processing.
In the discussion that followed these presentations, it was concluded that the engagement of the Ministry of Health with regard to the harmonization of the regulations concerning nutrition and health statements has to be more efficient. Additionally, the need for educating every person in the vegetable production and processing chain was emphasized.