Sojaprotein at the World Fair EXPO 2015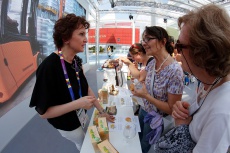 This year, in the period from the beginning of May until the end of October, the World Fair "EXPO 2015" is being held in Milan, with the theme "Food for the planet - energy for life". According to predictions, more than 20 million visitors are expected to visit EXPO 2015, and more than 100 countries are to participate in it. The Republic of Serbia is participating for the second time in this manner, with the aim of promoting its national identity by presenting tourism and its local economy.
Last week was marked by a three-day exhibition of the municipality of Bečej, organized by the Bačka Regional development agency and the Bečej Tourist organization in the Serbian pavilion, where the Sojaprotein assortment was also presented.
The company presented itself through the "Soya gastronomy show" as well as through the gastronomy presentation and the presentation of the potential of tourism in Bečej. Besides acquainting themselves with the product portfolio, visitors had an opportunity to enjoy tasting the soybean products - soybean pâtés with five different flavors, fried soybeans and specially prepared protein biscuits and gluten-free muffins. Sojaprotein representatives, headed by Zorica Belić, the technology coordinator for the use of soybean products, presented the significant potential of soybean use in regular, as well as in gluten-free nutrition.