Sojaprotein products as a part of the Bečej gastronomic tourist offer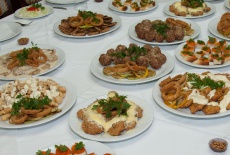 After the promotion of the product portfolio at the World Fair EXPO 2015 in Milan, Sojaprotein, in cooperation with the Tourist Organization Bečej, continued its "Soya Gastro Show" activities within the project of presenting the local gastro-tourist offer.
On October 29, a presentation and tasting of soybean meals was organized in the Sojaprotein restaurant for the representatives of the catering businesses from the municipality of Bečej and the surrounding area, with the idea of including the soybeans in various forms in the "Bečej menu". Caterers were initially informed about soybeans as food, their preparation and use in the household and in the catering industry, and were then able to taste different soybean specialities – from appetizers to desserts.
"The potential use of soybean products is very wide, and having the will and imagination in the kitchen are quite enough to make a great number of fantastic dishes out of soybean products alone or in combination with other ingredients. Sojaprotein's products are extensively used in specialized vegetarian and halal cuisine, and in different diets – meat-free, high protein, gluten-free, for the days of fasting, but also in conventional menus. In order to promote soybean products and their use, the kitchens of the catering businesses will have the expert support of the Sojaprotein research and development team at all times", said Zorica Belić, the technological project coordinator for Sojaprotein.