Sojaprotein at the international workgroup for reporting in the field of environmental protection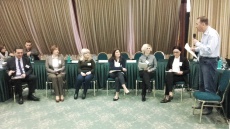 An international workgroup was held in Skopje on November 8 and 9 as part of the Support to the Establishment and Advancement of Pollutant Release and Transfer Register (PRTR) in Western Balkan Countries and the Republic of Moldova project, implemented by the Regional Environmental Center for Central and Eastern Europe, and supported by the German Federal Ministry for the Environment, Nature Conservation, Building and Nuclear Safety. The Register is a European record of industrial plants from the standpoint of environmental protection.
In addition to Sojaprotein, a member company of Victoria Group representing Serbian industry, the workgroup was also attended by representatives from relevant ministries and environmental protection agencies, as well as representatives from the NGO sector and the economic sector of the countries taking part.
Saška Totović, the expert Associate for Environmental Protection at Sojaprotein, shared with other participants the experience of digital reporting for the PRTR register, giving a review of the advantages and disadvantages from the viewpoint of the operator, the quality of information, fulfillment of legal obligations, and the control of the process which enables this mode of reporting.