Sojaprotein Expands in Asia and Africa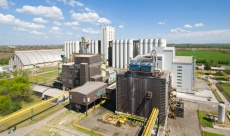 Sojaprotein, one of the largest European processors of non-GMO soybean, today exports its products to 53 countries worldwide. With just over 30 European countries that make up the central market of the Company, which operates within Victoria Group, the market has expanded to the Middle East and Northern Africa in the past year, with exports going to the Far East, and even to Mexico. Regular shipments now go to Jordan, Egypt, Tunisia, Morocco, South Korea, the Philippines, Indonesia, Vietnam and other Asian and African countries.
"We export soy products to 5 continents, which makes us one of the biggest non-GMO soybean processors on the global level. On all these markets, the big challenge is to satisfy the specific requirements of the customers, but also to always respond to urgent orders. We really are one of the few producers in the world with such a wide range of products for food, feed, and the pharmaceutical industries. Serbia has a long and successful tradition in growing soybean, and together with Ukraine and Italy, it is the biggest manufacturer of this oilseed. From the outset this gives us a good position, we owe the successful placement of our exports to the fact that we process exclusively non-GMO soybean, and also to the fact that our products are certified according to standards such as IP NON-GMO and Danube Soybean, which guarantee this", said Nikola Vujačić, Executive Director and Chief Operations Officer of Victoria Group, adding that "Sojaprotein constantly acquires new customers from European and non-European countries." Swiss Nestle and German Bayer are some of the names that are easily recognized by our public, among other world renowned companies.
Sojaprotein pays over 90 per cent of its expenses in Serbia, while more than 60 per cent of its income comes from exports. This volume of exports enables Sojaprotein to be one of the biggest net exporters in Serbia year after year. The expansion of Serbian companies on the foreign market and growth of net export positively affect the country's balance of payments and the employment of the domestic work force.