Sojaprotein at the "Bakers and Millers Conference" in Novi Sad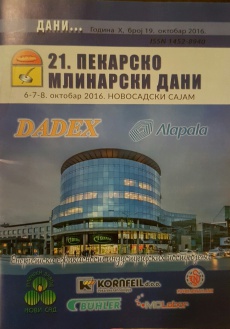 The "Bakers and Millers Conference" was held at Novi Sad Fair from October 6 to 8. Current topics related to this branch were discussed at this year's conference, which was held for the 21st time. A fair exhibition was added to the program for the first time. Visitors had an opportunity to learn about the equipment used by bakers and millers, to see how baked goods are prepared and baked in mini bakeries on several booths, and to enjoy the tasting. 
Sojaprotein joined this year's conference and presented its product portfolio for the baking industry. Zorica Belić, Technology Coordinator for the Use of Soybean Products, presented the results of the research dealing with the use of protein and concentrated soybean flours as nutritious and functionally valuable raw materials for the production of baked goods. She also took part in the panel discussion "Prepared mixtures and how they affect the assortment of baked goods". 
Additional topics discussed at the conference were energy efficiency, the economic aspects of the baking and milling industries and their competitiveness, the direction of development for this sector, with an emphasis on small producers and their new technological solutions. Aside from that, the new rulebook on the quality of grains, ground and baked goods and pasta was discussed as well.