The scope of Danube Soya certification expanded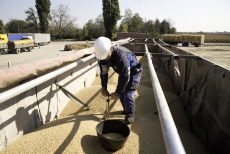 After Sojaprotein was the first in the region to receive the Danube Soya certificate for its traditional soy protein concentrates at the end of last year, this year, the international SGS certification company has expanded the scope of certification to two additional products: semolina with toasted and fat-free soy flour and toasted soy meal.
The purpose of expanding the Danube Soya standard was to enhance the recognizability of Sojaprotein as a company which produces safe, high quality products made of NON-GMO soybeans for human and animal consumption, with controlled origin. The basis for this certification is the IP program, which has been practiced for the last ten years. During the upcoming period, other soybean products will also be included, and the list will be expanded further to ensure the competitiveness of Sojaprotein products.
Besides expanding the scope of the Danube Soya certification this year, Sojaprotein has also expanded the scope of its certification for GMP+ standard for soy meal.