New Sojaprotein General Manager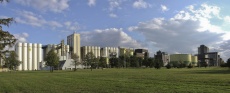 Siniša Košutić became General Manager of Sojaprotein, a member of Victoria Group, in August 2014.
Mr. Košutić brings with him his vast experience of the oil producing business which he gained at Victoriaoil, a factory that is also a member of Victoria Group, as well as at the Vital oil factory. Furthermore, the new General Manager of Sojaprotein is an expert in agricultural business financing, having gained professional experience in the banking sector at Crédit Agricole Serbia and Komercijalna Banka. With his competences in the management of production plants for oilseed processing and financial management, Mr. Košutić will contribute to further improving Sojaprotein's operations, aiming, amongst other things, to stabilise the company's position in new markets for soy protein concentrates and to continue increasing business results.
In the first half of 2014, Sojaprotein achieved an increase in business income of almost 30% versus the same period last year. As a result of the implemented investments and optimisation of operations, sales income increased by more than RSD 2.6 billion, or by 77.45%, and growth was recorded in both the home and foreign markets.