New range of mineral fertilisers presented at Agricultural Fair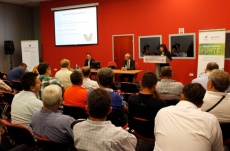 A presentation of the new range of mineral fertilisers for the 2014/2015 season from the company Victoria Logistic and the factory Fertil in Bačka Palanka was held at the 81st International Agricultural Fair in Novi Sad on 22 May 2014.
The presentation covered three segments:
Application of traceability and soil analysis as the foundations of successful and quality  application of formulation-specific mineral fertilisers – Natalija Kurjak, Marketing  Manager for Partner Relations at Victoria Group.
Nutrient content in different types of soil, impact of inadequate use of mineral  fertilisers on crop yields and soil nutrient content – Prof. Branko Marinković, PhD,  Faculty of Agriculture in Novi Sad.
Victoria Logistic Characteristics of the new fertilisers in the Victoria Logistic range,  their impact on quality and quantity of plant species, and proposed formulations for  the upcoming season – Dr. Duško Marinković, Deputy Manager of the Expert Service  of Victoria Logistic.
Representatives of cooperatives and their subcontractors who used Forte fertilisers this season attended the presentation.
The range of basic mineral and nitrogen fertilisers which Victoria Logistic presented to farmers and business partners was prepared on the basis of soil analyses, fertilisation recommendations for certain plant species, as well as the demand of the Serbia market.
Basic mineral fertilisers
NPK 9:15:15
NPK 5:16:24
NPK 5:24:16
NP 20:20
NP 10:20
NK formulations
Nitrogen fertilisers