A meeting with the partners about the upcoming purchase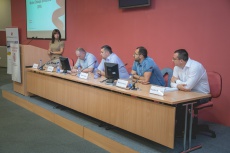 The traditional meeting between Victoria Logistic and its business partners regarding the upcoming sunflower and soybean purchase took place on August 19 in Novi Sad. Around 150 partners attended the meeting and they were addressed by Nikola Vujačić, Victoria Group Chief Operations Officer and Executive Director; Mladen Jovanović, Victoria Logistic General Manager; Goran Borčak, Victoria Logistic Commercial Director; Dragoljub Milinković, Front Office Director, and Natalija Kurjak, Victoria Logistic Marketing Director.
The company presented three models of oilseed purchase for 2016 to the partners, which, in comparison with previous methods of work, offer a range of new possibilities for the partners who hand over the goods to Victoria Logistic. According to the first model, the current market price of soybean and sunflower is determined each workday at 10 a.m. and it is valid through to 3 p.m. the same day. The second model is the closest to the old purchase model, and according to it, the provisional price is determined upon receiving the seeds at the beginning of the purchase, and the final market price is determined at the end of the seed purchase. The third possibility is to store the goods in the company silos, and that the decision to sell at market prices can be made at any time, starting from the moment of seed handover, up until the start of harvesting the following year. If the goods are sold to Victoria Logistic, all storage costs are charged to the company, and if they are sold to a third party, storage costs are calculated in accordance with market prices.
This year, sunflower was sown on a 205,000 hectare area and a satisfactory yield is expected – the first yield is already over 3t/ha, and the harvest has begun on 5% of the area. Soybean was sown on a 185,000 hectare area, with the expected yield of over 700,000 tons.