Law on Pre-Harvest Financing for increased transparency of this model of financing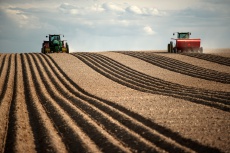 In recognition of the importance of resolving the problem of financing, regarding the development of the Serbian agriculture, the European Bank for Reconstruction and Development (EBRD) and the Food and Agriculture Organization of the United Nations (UN FAO), together with the Ministry of Agriculture of the Republic of Serbia started the initiative in the previous year to develop the Law on Pre-Harvest Financing, which came into effect in June this year.
The law is a financial instrument based on securing placements by establishing a pledge on future agricultural products. At the time when a certain agricultural production is started, the farmer is creditworthy based on his future agricultural products, which are due at a certain time during the year. The Law enables this credit potential to be used more than was previously the case, by increasing the transparency of this financing model through establishment of the Register of Financing Agreements in the Business Registers Agency, regulating the way the creditor's rights are executed, as well as other elements which govern this area in detail.
Through the implementation of the Law on Pre-Harvest Financing, the Republic of Serbia became the only country in the region which has implemented this type of instrument in practice, since it originates from Brazil where the loans based on this law are estimated to be worth billions of dollars.
The Victoria Group has been supporting its partners for years in accordance with this model, making it possible for them to start agricultural production in that manner. Mladen Jovanović, General Manager of Victoria Logistic, a member of Victoria Group, pointed out that for our company, as one of the largest oilseed processors in the region, farmers are natural partners and added that: "Victoria Logistic cooperates with around 300 associates and through them with over 40,000 farmers. For several years we have been supporting them through pre-financing by providing them with raw materials that include mineral fertilizers, seeds and crop protection chemicals, primarily related to the production of soybeans and sunflower. In this way, during the previous year, we invested EUR 60 million in local agriculture, and this year we have reached a similar, pre-financing amount. This time as well, our partners came to us for the necessary means to start production. Since the Law came into effect in June, this means it will be used in production not before the next production year. I believe that a large number of them will again come to the processing industry for pre-harvest financing. During the last five years, our company has invested around EUR 420 million in this way, but it is also important to point out that the support we provide is not only financial in its nature – the farmers may also turn to our Expert Service, which provides recommendations and advice regarding the application of agrotechnical measures and production improvement in order to achieve high and stable yields of sufficient quality."
On the occasion of this Law coming into effect, Miljan Ždrale, Director of the Agribusiness sector at European Bank for Reconstruction and Development for South-East Europe, said: "The adoption of the Law on Pre-Harvest Financing is a major step forward for Serbia in the direction of improving financing requirements for agricultural production. We are pleased to see the Ministry has recognized the significance of the EBRD's initiative, with the technical support of FAO, and gave its support in the process of passing the Law. The new financial instrument is a good alternative means of short term agricultural financing, which is sustainable on the market and is not a burden to the state administration. Moreover, the fact this Law is moving the focus of financing of agriculture from the public onto the private sector is extremely important, especially given the requirements of the budgetary limitations Serbia is facing now. There is also noticeable interest for this Law from financing institutions - banks and food and processing sector, as well as from the farmers themselves, which indicates the need for short term agricultural production financing. We believe that in the long term, this Law will contribute to the operation of the financial market in agriculture, and will also have a positive effect on the level of interest rates, as well on the insurance market in agriculture, which is still not adequately developed in Serbia. The same as was the case during the process of drafting the law, the EBRD together with FAO will continue to support the authorities in the process of its implementation. The Register of Agreements is established and operates within the Business Registers Agency, and there is also an intensive training program for future users of the law being prepared, as well as the powerful news campaign in 15 cities in Serbia on the possibilities which this Law provide."