Gold Medal for Iskon Oil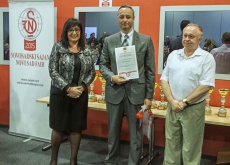 Sunflower oil from the Victoriaoil factory, a member of the Victoria Group, was awarded another gold medal for quality at the Novi Sad Fair in the category of edible oils. This award is given within the framework of a product quality assessment, which is traditionally organized during the International Agricultural Fair. This year, the Fair is held from May 9 to May 15.
The award was received by Srđan Popov, CEO at Victoriaoil, who said on this occasion: "By investing in the production and implementation of international standards, we achieved a high quality of oil recognized for a number of years by our consumers, as well as by scientific experts. Iskon has so far won medals for quality at the Novi Sad Fair on several occasions. Last year, Iskon was awarded two prestigious awards - "The Best from Serbia" for the best food brand, as well as the International award "Superior Taste Award", awarded by the International Institute for Taste and Quality. We look at these awards as recognition of the market success of the oil produced by Victoriaoil and excellent results both in domestic sale and export."
Victoriaoil is one of the biggest net exporters from Serbia. According to data from the Customs Administration and the Business Registers Agency for 2014, in the research of Business Info Group, the oil factory took ninth place on the list of the best net exporters. Besides sunflower oil, it achieved significant success in the placement of soybean and rapeseed oil, as well as of lecithin and other products from oil crops.