General Manager at SP Laboratory receives award for contribution to the economy of Vojvodina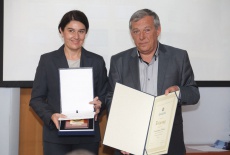 Aleksandra Bauer, General Manager at SP Laboratory, has been awarded by the Chamber of Commerce of Vojvodina for significant economic achievements. This is a traditional award given to companies and individuals whose results have contributed to the general development of Vojvodina's economy.
"I have been a part of the SP Laboratory's team for twenty years. My professional accomplishments are inseparable from the development and success of the laboratory. I believe that this award acknowledges the importance of quality management, but also our contribution to the positioning of Serbian food products on foreign markets. Quality is undoubtedly one of the key factors of competitiveness and success on foreign markets. It is important to point out that SP Laboratory is among European reference laboratories and that it regularly participates in international inter-laboratory testing and quality arbitration. My work and the laboratory's work is supported by a team of more than 130 employees, highly-trained experts who are constantly perfecting themselves, following trends, and introducing innovations and new testing methods", Aleksandra Bauer said when receiving the award.
SP Laboratory is one of the most sophisticated food laboratories in the Balkans regarding technical equipment, capacity for testing, and highly-trained staff. It is accredited for testing the quality and safety of food, animal feed, water, soil, pesticides, emission and immission parameters, as well as testing the health safety of items for general use. The laboratory performs analysis on over 15,000 samples per month based on requests by numerous domestic and foreign companies and producers, including the Ministry of Agriculture and Environmental Protection and other government institutions.