Dog&Style in the game "Lajavko" ("Barky") for Android phones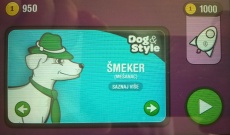 Veterinary Institute Subotica has branded the entertaining and educational game "Lajavko", which is available to users of phones with the Android operating system. One of the characters in "Lajavko" is ŠmeKer ("Charmer"), the trademarked face of Dog&Style dog food produced by the Institute, and the game, apart from providing entertainment, offers the opportunity to learn more about dogs and the various breeds.
Veterinary Institute Subotica will, as part of this activity, donate food to dog asylums every month in accordance with the number of game downloads. Android phone users can download the game here.