Consultation on Production and Processing of Oilseeds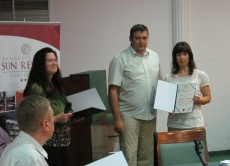 The 55th International Consultation on the Production and Processing of Oilseeds, a traditional meeting of oil producers, was held in Herceg Novi this year, on 16 to 20 June. The event was organised by the "Industrial Crops" business community, the Institute of Field and Vegetable Crops in Novi Sad and the University of Novi Sad Faculty of Technology.
Over 80 representatives of oilseed processing factories together with local and foreign academic and science professionals and took part, along with manufacturers of equipment for the agriculture and oil producing industry, manufacturers of laboratory equipment, seed companies and other companies, manufacturers of other raw materials for the production of oilseeds. Victoria Group was represented by experts from Victoriaoil and Sojaprotein as well as from SP Laboratory and Victoria Logistic, who presented their work and experience in different areas of oilseed production and processing during the five-day event.
As part of the programme, recognitions were awarded to the companies and organisations that assisted in the continuous organisation of the conference, including Victoria Logistic.