Assistance for the most vulnerable – over 15.5 million Dinars in money and goods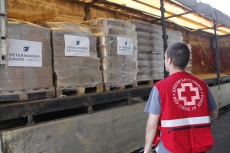 The company Victoria Group has donated over 15.5 million Dinars so far in assistance for the most vulnerable of our fellow citizens and for repairing the damage caused by the recent floods in Serbia.
Besides direct monetary assistance in the amount of 10 million Dinars, the company and its members – Sojaprotein, Victoriaoil, Veterinary Institute Subotica, Victoria Logistic, Port of Bačka Palanka, Fertil, Riboteks, SP Laboratory, and Victoria Starch, have together donated more than 52,000 cans and jars of food, 5,300 bottles of sunflower oil, and 7,600 disinfectant gels, but also a tonne of dog food, animal vaccines, and disinfectants, plus almost a tonne of petroleum and almost 140 tonnes of sand for building and maintaining flood defence walls.
In addition to these donations of goods and money, the company also gifted five computers and five printers to the Belgrade Red Cross to facilitate recordkeeping of our fellow citizens who have been evacuated from the flooded areas.
Victoria Group employees also organised the collection of personal hygiene items, clothes, and medical supplies in seven locations, and 500 kg of collected goods were delivered to the Red Cross in Belgrade for further distribution according to the registered needs of shelters in Serbia. Employee representatives also participated in an action to provide help and distribute food to the people in affected areas, whose homes have been inaccessible since the floods.