The 4th International Danube Soya Congress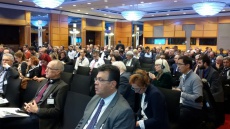 The fourth International Danube Soya Congress Sustainable Soya – Sustainable Europe organized by the Danube Soya Association and the Ministry of Agriculture of Hungary was held on November 24 and 25 in Budapest.
The program of the congress was dedicated to the activities, changes and challenges on the soybean market. Over 350 participants attended the two-day congress, which also included various scientific and technical workshops on current research in the field of soybean production, the market situation and the labelling of NON-GMO products. The Danube Soya and Europe Soya programs were presented, together with the strategy for the coming period.
Victoria Group had two representatives at the Congress: Natalija Kurjak, Marketing Manager at Victoria Logistic, and Aleksandra Petrić, Quality Control Manager at Sojaprotein. For the fourth time in a row, the Danube Soya Congress brought together representatives from the economic sector, public administration institutions, civil society and academic institutions all over Europe, who gathered around the joint initiative for a sustainable protein supply for this continent.