Autumn sowing of winter grain crops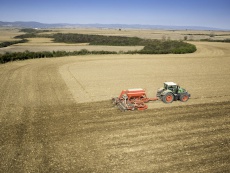 In Serbia, grain crops (wheat, barley, rye, triticale, durum wheat) are sown on between a 450,000 and 600,000 hectare area on average each autumn.
This autumn, producers' interest is low and many farmers will primarily decide to sow wheat in order to achieve the required crop rotation. One of the factors that limit the sowing of this plant on larger areas is related to the weather conditions that hinder crop harvesting, and consequently the preparation of soil for sowing. Constant precipitation obstructs fieldwork, which leads to the continual postponement of winter grain crop sowing. For example, in western Bačka, 10-15% of the planned area has been sown so far, while the situation in central Banat is slightly better (about 20% of the planned area). Because of such weather conditions, sowing was not done within the optimum sowing period, which is until October 25 in our production area.
Once the precipitation has ceased, agricultural producers should use each day to implement the necessary agro technical measures (using appropriate amounts of fertilizer based on soil analysis, preparation for sowing, and sowing itself). Victoria Logistic Expert service recommends that the sowing of winter grain crops should be done by November 15. If sowing is done within the first five days of November, it is recommended to increase the sowing norm by 5%, and if sowing takes place between November 6 and 15, the sowing norm should be increased by 10%. The final period for sowing winter grain crops should be adjusted in accordance with field conditions.